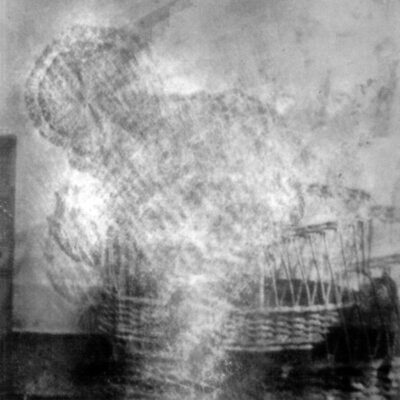 DROME TRILER OF PUZZLE ZOO PEOPLE
A1: CAN'T SEAM A MONGREL BLY (2:33); A2: SILK ORBITA (1:31); A3: EYES THE TENTACLE AND ARACHNID KNEW (3:07); A4: REMEMBERED 29 TIMES (2:31)); A5: FLOORS BUILDING LEGS (1:36); A6: LITTLE JUPITER COME HOME TO A GROAT MAN (5:17).
B1: EATING THE TRANSLUCENT OLD FOLK'S VILLAGE (3:51); B2: SKY FLOWERS THROUGH HORSE EGGS (3:02); B3: FOREST BY THE
CONCUBINED SEA (1:48); B4: AUROREN (2:32); B5: HUNGRY WER PEDAL'S LOADED LUGGAGE (1:56); B6: THE CLIMBING NEURONIUM LADDER (0:50); B7: TRIPPY DEAD ZONE (0:28); B8: RENLON DUSTED (1:22); B9: MODERN FUEL PLAN (1:47); B10: FLUTTERING GNOME-LETTE SUITE (1:39).
CATEGORY: ACID PUNK | DURATION: 37 MINUTES
The one and only classic of psychedelic powerviolence, Gasp's Drome Triler Of Puzzle Zoo People reinvents acid punk as a continuous 37-minute masque of madness. A shifting sonic mosaic of electronics, tape loops, samples, feedback and random noise, sometimes fading into ghostly ambience, envelops Gasp's eccentric but brilliantly realized vision of an underground hardcore/prog-rock fusion.
THIS BOOK IS DEDICATED TO THE MEMORY OF ROBERT YOUNG (1964-2014)
"ÆTERNUM VORTICE LACRIMARUM SOMNIAT"