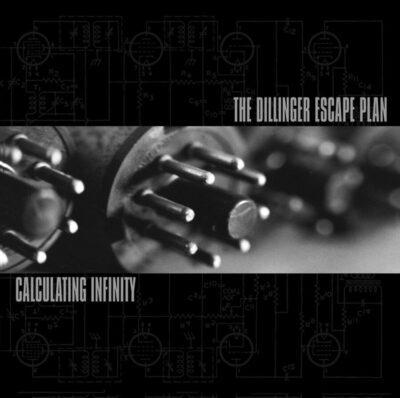 THE DILLINGER ESCAPE PLAN
A1: SUGAR COATED SOUR (2:24); A2: 43% BURNT (4:31); A3: JIM FEAR (2:22); A4: *#.. (2:41); A5: DESTRO'S SECRET (1:57); A6: THE RUNNING BOARD (3:22).
B1: CLIP THE APEX… ACCEPT INSTRUCTION (3:29); B2: CALCULATING INFINITY (2:02); B3: 4TH GRADE DROPOUT (3:36); B4: WEEKEND SEX CHANGE (3:11); B5: VARIATIONS ON A COCKTAIL DRESS (7:56).
CATEGORY: HARDCORE | DURATION: 38 MINUTES
As its title implies, Calculating Infinity sees Dillinger Escape Plan attempt the impossible by merging existing strands of metal, grindcore and free jazz into a final form of progressive hardcore. Summing up this music as "mathcore", music writers concluded that Calculating Infinity marked the start of a new movement when, of course, it was the omega plan of all notational chaos made vinyl, the unreckonable conclusion to more than a decade of hardcore and metal experimentation.
THIS BOOK IS DEDICATED TO THE MEMORY OF ROBERT YOUNG (1964-2014)
"ÆTERNUM VORTICE LACRIMARUM SOMNIAT"