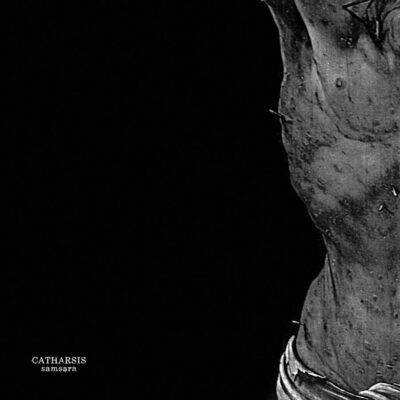 A1: INVOCATION: ONE MINUTE CLOSER… TO THE HOUR OF YOUR
DEATH (1:01); A2: EXTERMINATING ANGEL (3:09); A3: BOW DOWN: EVERY BENT KNEE TOO SHALL BREAK (1:45); A4: CHOOSE YOUR HEAVEN (5:32); A5: EVERY MAN FOR HIMSELF …AND GOD AGAINST THEM ALL (4:23); A6: SACRED AND PROFANE (THE CARNAL PRAYER MAT) (2:47).
B1: ONE HUNDRED YEARS… IN SOLITARY (5:03); B2: PARIAH (6:14); B3: CHOOSE YOUR HEAVEN (1:06); B4: (THE EVOLUTION OF DYING) (9:11); B5: I CORINTHIANS 1:18-29 (4:25).
CATEGORY: HARDCORE | DURATION: 44 MINUTES
A milestone on hardcore's transition to an annihilatory climax, Samsara is one of the prime releases from CrimethInc, an anarchist record label and cultural collective. On Samsara, Catharsis examine religious themes through a conflagration of metal-plated hardcore, expressed through alternating dynamics and an affiliation with noise. This quasi-experimental approach would reach its apotheosis in the last few essential hardcore recordings of the epoch, finally achieving melting-point through spontaneous combustion.
THIS BOOK IS DEDICATED TO THE MEMORY OF ROBERT YOUNG (1964-2014)
"ÆTERNUM VORTICE LACRIMARUM SOMNIAT"