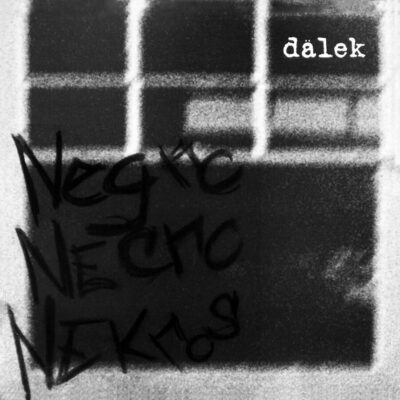 A1: SWOLLEN TONGUE BURNS (3:41); A2: THREE ROCKS BLESSED
(7:44); A3: IMAGES OF .44 CASINGS (10:27).
B1: THE UNTRAVELLED ROAD (4:37); B2: PRAISE BE THE MAN (12:00).
CATEGORY: HIP-HOP | DURATION: 39 MINUTES
The only significantly different recording to emerge from an "underground hip-hop" scene that in the mid to late 90s was supposedly set to usurp the hideous corporate rap music of that period, New Jersey group Dälek's Negro, Necro, Nekros is notable more for its music than its words; created largely by group member Oktopus, the Dälek sound was the most original since the Bomb Squad, using similar compositional
techniques but delving more into the realm of industrial noise, dub, drone and incisive spoken word voice samples than standard soul/funk loops; lengthy tracks feature extended and complex instrumental breaks, predicated on texture and sound. Negro, Necro, Nekros is an album which simultaneously proves that not all rap and hip-hop music is sterile garbage, and confirms by comparison that it mostly is.
THIS BOOK IS DEDICATED TO THE MEMORY OF ROBERT YOUNG (1964-2014)
"ÆTERNUM VORTICE LACRIMARUM SOMNIAT"