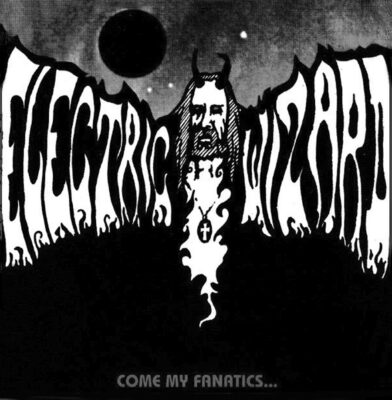 A1: RETURN TRIP (10:03).
B1: WIZARD IN BLACK (8:24); B2: DOOM MANTIA (8:49).
C1: IVIXOR B / PHASE INDUCER (8:48); C2: SON OF NOTHING (6:44).
D1: SOLARIAN 13 (8:00).
CATEGORY: PSYCH-METAL | DURATION: 51 MINUTES
The parodic band name tells us that with Come My Fanatics…, Electric Wizard have gratuitously constructed the ultimate heavy rock sound, where bleeding voltage creates a groundswell of sickening motion scythed by monolithic riffs and doom-encrusted psychotropic proclamations. The result pushes Come My Fanatics… deep into the psych-metal zone, where all true miscreants reside during the final assault on reality.
THIS BOOK IS DEDICATED TO THE MEMORY OF ROBERT YOUNG (1964-2014)
"ÆTERNUM VORTICE LACRIMARUM SOMNIAT"