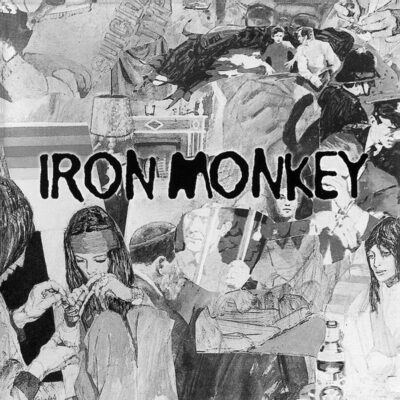 A1: FINK DIAL (5:45); A2: WEB OF PISS (4:50); A3: BIG LOADER (4:59); A4: 666 PACK (7:30).
B2: BLACK ASPIRIN (5:26); B3: SHRIMP FIST (9:18).
CATEGORY: HARDCORE ROCK | DURATION: 38 MINUTES
Just as Electric Wizard knowingly churned heavy rock into psych-metal extremes, so fellow English band Iron Monkey raised the bar on hardcore "sludge" rock with their first album, Iron Monkey. As the song titles indicate, Iron Monkey is another sardonic take on existing trends that in the end succeeds in establishing a new vantage-point for the movement, one where iron gods gaze down and stamp on the human insects far below.
THIS BOOK IS DEDICATED TO THE MEMORY OF ROBERT YOUNG (1964-2014)
"ÆTERNUM VORTICE LACRIMARUM SOMNIAT"