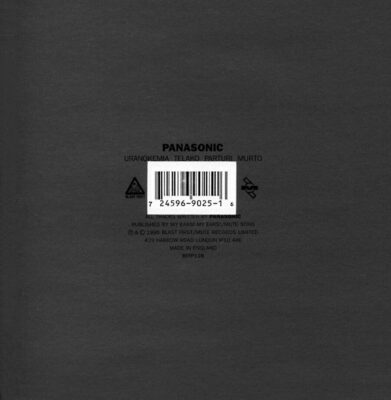 A1: URANOKEMIA (6:24); A2: TELAKO (4:59).
B1: PARTURI (5:42); B2: MURTO (6:25).
CATEGORY: ELECTRONIC | DURATION: 24 MINUTES
Before Panasonic were forced to rebrand as Pan Sonic due to a trademark dispute, this band of Finnish radicals were the prime practitioners of electronic music as the new rock and roll. Relentless percussive assaults, glitch textures and harshly-generated noise swells form the basis of the four tracks on Osasto, a 4-track 12-inch single which takes electro-punk to its post-Suicide apotheosis.
THIS BOOK IS DEDICATED TO THE MEMORY OF ROBERT YOUNG (1964-2014)
"ÆTERNUM VORTICE LACRIMARUM SOMNIAT"