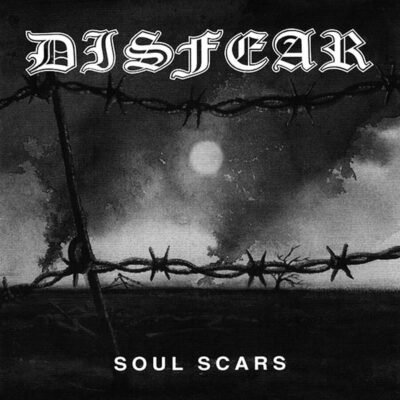 A1: SOUL SCARS (2:07); A2: LEFT TO DIE (1:32); A3: THE ULTIMATE DISASTER (1:16); A4: TO HELL AND BACK (1:26); A5: WEAK (2:23); A6: SOBRIETY (2:18); A7: THE PRICE OF IGNORANCE (1:20).
B1: ALL THIS FEAR (2:07); B2: DO AS YOU'RE TOLD (1:16); B3: THE TRUE FACE OF WAR (1:47); B4: GRIM REALITY (1:59); B5: AFTER THE REVIVAL (2:27); B6: ANXIOUS (2:06); B7: DISAVOWED (1:52).
CATEGORY: ANARCHO-DEATH | DURATION: 26 MINUTES
In a year when American death metal could only offer the nostalgic corpse-twitch of Cryptopsy's None So Vile and Swedish bands like Entombed had already defected to a new form of deathly heavy rock as the age of music recycling began to gain traction, Disfear were the first of several Swedish bands to resurrect the corpse of 80s D-beat by imprinting it with a galvanising jolt of death metal lightning. Recorded at Sunlight Studios with a full metal sound, Soul Scars presents a heavily-crusted, bone-shattering and war-like cataclysm of unrelenting anarcho-death, an aural armageddon with the historic power of Discharge and Motörhead rolled into one and rapidly accelerated to maximum lethality.
THIS BOOK IS DEDICATED TO THE MEMORY OF ROBERT YOUNG (1964-2014)
"ÆTERNUM VORTICE LACRIMARUM SOMNIAT"