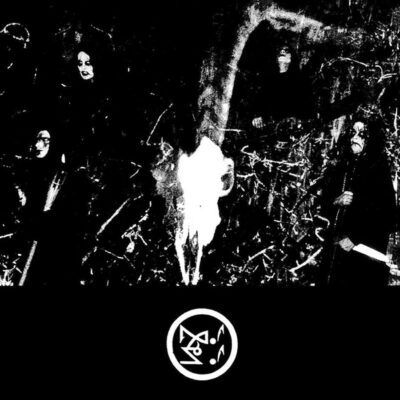 MARCH TO THE BLACK HOLOCAUST
A1: GUILTY (6:28); A2: A DAY WILL DAWN (3:25); A3: HATE (3:16).
B1: LAST SIGH OF GOD (1:58); B2: NIGHT OF SADNESS (4:10); B3: DESPAIR (2:38); B4: THOSE OF OUR BLOOD (4:01); B5: IF WE HAD… (1:01).
CATEGORY: BLACK METAL | DURATION: 27 MINUTES
By 1995 pure black metal was all but dead, but a sudden spastic corpse-twitch erupted in the form of Belkètre's March To The Black Holocaust, a misanthropic lo-fi evacuation from the bowels of Les Légions Noires in whose mythology the Black Holocaust is an apocalyptic judgement day when the world's human cattle – those enslaved by religion – will be brutally trucidated in a monumental vampiric carnage. Conjuring a venomous, reptilian sound to match this vision of mass slaughter and torrential blood-letting, March To The Black Holocaust stands as the true black metal cult's murderous and nihilistic last breath.
THIS BOOK IS DEDICATED TO THE MEMORY OF ROBERT YOUNG (1964-2014)
"ÆTERNUM VORTICE LACRIMARUM SOMNIAT"