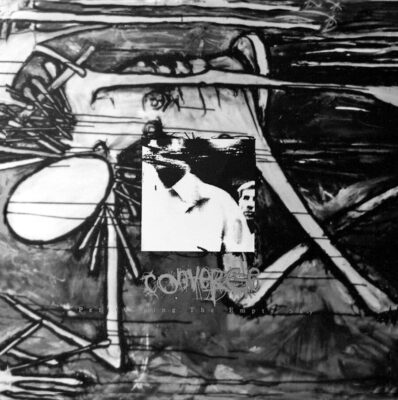 PETITIONING THE EMPTY SKY
A1: THE SADDEST DAY (7:05); A2: FORSAKEN (2:20). A3: ALBATROSS (1:49); A4: DEAD (3:05); B2: SHINGLES (4:13).
B1: SHINGLES (4:13); B2: BURIED BUT BREATHING (1:11); B3: FAREWELL NOTE TO THIS CITY (5:20); B4: COLOR ME BLOOD RED (3:57).
CATEGORY: HARDCORE | DURATION: 29 MINUTES
A 12-inch single later expanded to album length by the addition of tracks B1-B4, Converge's Petitioning The Empty Sky presents metal-plated hardcore delivered with unbonded ferocity and revelling in twining mutant riffcraft. This assaultive blast also points forward to hardcore's final, end-of-days evolution into a state of finely-detailed holocaust. Stick to the original single tracks (A1-A4) for extra purity.
THIS BOOK IS DEDICATED TO THE MEMORY OF ROBERT YOUNG (1964-2014)
"ÆTERNUM VORTICE LACRIMARUM SOMNIAT"