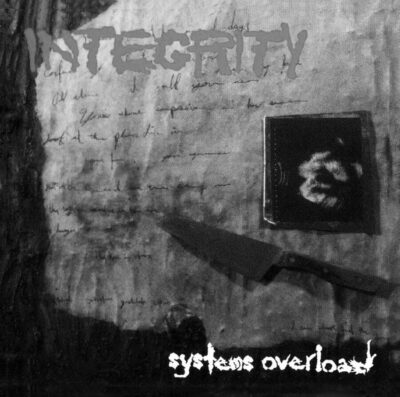 A1: INCARNATE 365 (3:16); A2: NO ONE (0:41); A3: SYSTEMS
OVERLOAD (1:54); A4: ARMENIAN PERSECUTION (3:59); A5: GRACE OF THE UNHOLY (2:35); A6: FOREVERS HORIZON (2:00).
B1: MEDIATOR (2:13); B2: SALVATIONS MALEVOLENCE (5:28); B3: FADING AWAY (1:20); B4: JIMSON ISOLATION (2:57); B5: THE SCREAMS (1:55); B6: SEARCH FOR DIVINITY (1:27).
CATEGORY: HARDCORE | DURATION: 30 MINUTES
Exemplars of the metal-plated hardcore which fought to preserve the fire and aggression of amplified electric music even as it entered its dying days, Integrity delivered their most crushing work with Systems Overload, an art-brutal expression of psychotic reactions. Sometimes associated with a dark and confrontational music movement known as "holy terror", Systems Overload retains its power to provoke and prevail.
THIS BOOK IS DEDICATED TO THE MEMORY OF ROBERT YOUNG (1964-2014)
"ÆTERNUM VORTICE LACRIMARUM SOMNIAT"