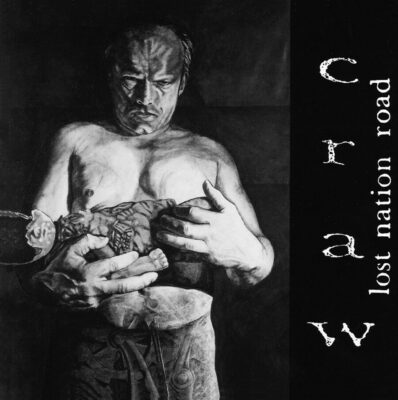 A1: SOUND OF EVERY PROMISE (4:40); A2: STRONGEST HUMAN BOND (4:41); A3: BYPASS (5:31); A4: BOTULISM, CHOLERA + TARIK (2:59); A5: LIFELIKE (6:44).
B1: I FOUGHT DIRTY (5:20); B2: ALL THIS HAS MADE ME (6:26); B3: SHOCKLIGHT (6:11); B4: FEESH CRIK (4:03); B5: AS LONG AS THE TURNPIKE (5:37).
CATEGORY: HARDCORE ROCK | DURATION: 53 MINUTES
Engineered by Albini, Craw's second album Lost Nation Road presents a complex of hardcore rock, noise, and even free jazz tropes in its quest to express a system far beyond rock yet carved by rock tools. Sometimes described by journalists as "math rock", this system seeks to harness chaos models in the pursuit of a monumental aural imprint, a goal achieved by Lost Nation Road with shuddering clarity.
THIS BOOK IS DEDICATED TO THE MEMORY OF ROBERT YOUNG (1964-2014)
"ÆTERNUM VORTICE LACRIMARUM SOMNIAT"