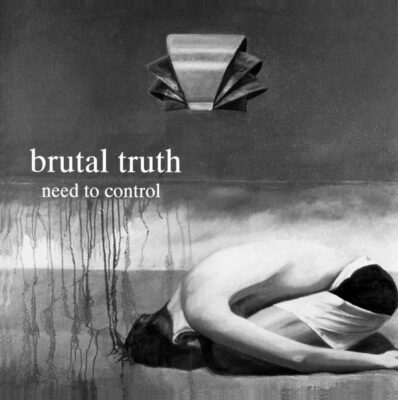 A1: COLLAPSE (5:03); A2: BLACK DOOR MINE (1:41); A3: TURN FACE (1:30); A4: GODPLAYER (4:06); A5: I SEE RED (2:50); A6: IRONLUNG (4:22); A7: BITE THE HAND (2:06).
B1: ORDINARY MADNESS (5:05); B2: MEDIA BLITZ (0:55); B3:
JUDGEMENT (2:35); B4: BRAIN TRUST (2:43); B5: CHOICE OF A NEW GENERATION (1:59); B6: MAINLINER (2:19); B7: DISPLACEMENT (4:15); B8: CRAWLSPACE (1:35).
CATEGORY: HARDCORE | DURATION: 43 MINUTES
Super-harsh and heavy experimental hardcore, often bordering on updated grindcore, but interwoven with slower deathly metallic tropes and noise collages. With this masterclass of freestyle underground music, Brutal Truth emerged above all existing cults and exhibited a violent future for a melted metal hardcore which, sadly, few if any were able to realise.
THIS BOOK IS DEDICATED TO THE MEMORY OF ROBERT YOUNG (1964-2014)
"ÆTERNUM VORTICE LACRIMARUM SOMNIAT"