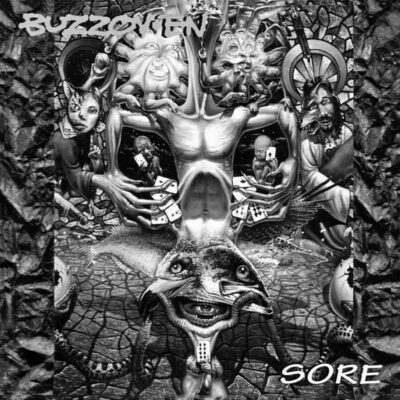 A1: SORE (9:19); A2: UNWILLING TO EXPLAIN (2:17); A3: HOLLOW (5:09); A4: DONE (2:46); A5: I DON'T LIKE YOU (5:43); A6: BROKEN (6:07).
B1: PATHETIC (6:16); B2: SHOULD I (6:20); B3: BEHAVED (2:30); B4: BLINDED (4:15); B5: GRIT (2:41); B6: THIS IS NOT… (9:18).
CATEGORY: HARDCORE ROCK | DURATION: 63 MINUTES
Hardcore grinding filth in the manner of Eyehategod, but even more deranged in its expression of hatred, degradation and horror. By all accounts Buzzov*en were truly a band from society's underbelly, revelling in violence and addiction and fully able to translate that reality into sound. Sore remains their definitive statement, mixing faster tracks with longer, drawn-out expositions of dementia, with the album's sleeve art resembling sketches stripped from a psychiatric ward for serial killers. An array of unpleasant samples add to the music's feral, rabid bite, making Sore an authentic trip into blood-splattered purgatory. The album's last track, "This Is Not…", has an additional looped voice sample appended to its initial 5-minute duration; this "repeat groove" section runs to some four minutes on the vinyl edition (here), or fourteen on
the CD.
THIS BOOK IS DEDICATED TO THE MEMORY OF ROBERT YOUNG (1964-2014)
"ÆTERNUM VORTICE LACRIMARUM SOMNIAT"