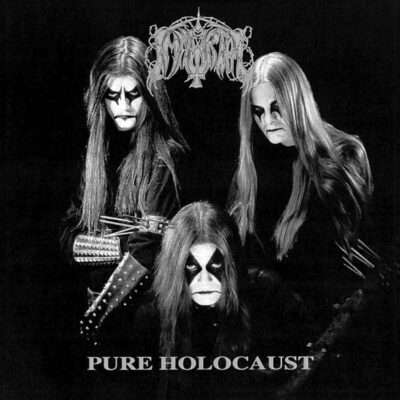 A1: UNSILENT STORMS IN THE NORTH ABYSS (3:14); A2: A SIGN FOR THE NORSE HORDES TO RIDE (2:35); A3: THE SUN NO LONGER RISES (4:19); A4: FROZEN BY ICEWINDS (4:40).
B1: STORMING THROUGH RED CLOUDS AND HOLOCAUST WINDS
(4:39); B2: ETERNAL YEARS ON THE PATH TO CEMETERY GATES (3:30); B3: AS THE ETERNITY OPENS (5:30); B4: PURE HOLOCAUST (5:16).
CATEGORY: BLACK METAL | DURATION: 34 MINUTES
Recorded during black metal's peak year of creative impact, Immortal's second album Pure Holocaust eclipses their first in its concentric viciousness and deployment of continuous amplified distortion. This radical methodology for evoking auras of eternal desolation, winter and death extends the work already registered by other Norwegian provocateurs in the field of beautiful abnegation through epic and bloody sonic raids. Despite their post-Kiss visual deficiencies, Immortal have erected a towering obsidian tomb in the graveyard of the black metal gods.
THIS BOOK IS DEDICATED TO THE MEMORY OF ROBERT YOUNG (1964-2014)
"ÆTERNUM VORTICE LACRIMARUM SOMNIAT"