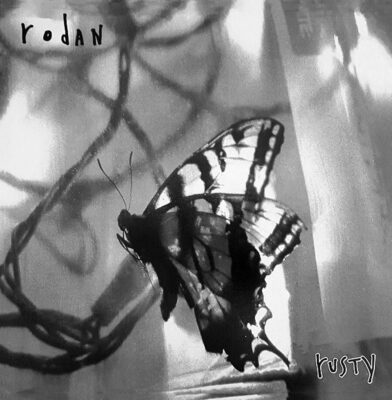 A1: BIBLE SILVER CORNER (6:52); A2: SHINER (2:38); A3: THE EVERYDAY WORLD OF BODIES (11:55).
B1: JUNGLE JIM (7:31); B2: GAUGE (7:17); B3: TOOTH-FAIRY
RETRIBUTION MANIFESTO (6:28).
CATEGORY: EXPERIMENTAL ROCK | DURATION: 43 MINUTES
In the manner of Slint two years earlier, Rodan's one and only album Rusty ventures into the space between sleep and wakefulness to explore the subliminal inner perceptions of a world in chaos. Sometimes as noisy as contemporary bands like Unwound and sometimes as quiet as an undersea psalm, Rusty is an ever-sentient eyeball glimpsed through a crack in the sidewalk. Who breaks a butterfly on the wheel?
THIS BOOK IS DEDICATED TO THE MEMORY OF ROBERT YOUNG (1964-2014)
"ÆTERNUM VORTICE LACRIMARUM SOMNIAT"