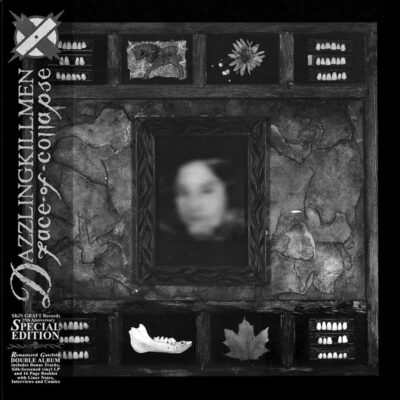 A1: STARING CONTEST (3:18); A2: BONE FRAGMENTS (5:46); A3: MY LACERATIONS (1:29); A4: BLOWN (FACE DOWN) (5:52); A5:
WINDSHEAR (2:08); A6: PAINLESS ONE (4:44).
B1: IN THE FACE OF COLLAPSE (13:58); B2: AGITATOR (4:51).
CATEGORY: EXPERIMENTAL ROCK | DURATION: 43 MINUTES
Engineered by Albini in 1993, Dazzling Killmen's second and final album Face Of Collapse presents experimental rock in the tradition of Beefheart and others, but delivered with the brutal intensity of hardcore. Setting the scene for several years of outbursts which would use rock forms in non-rock ways until vanishing point, Face Of Collapse is a milestone in electrified music's defiant terminal trajectory.
THIS BOOK IS DEDICATED TO THE MEMORY OF ROBERT YOUNG (1964-2014)
"ÆTERNUM VORTICE LACRIMARUM SOMNIAT"