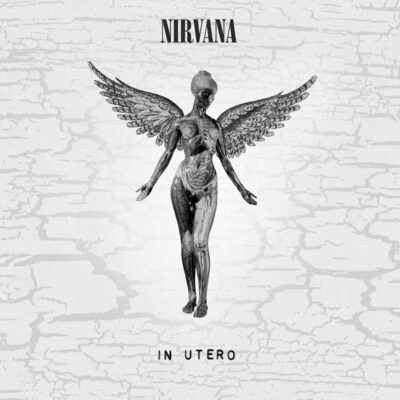 A1: SERVE THE SERVANTS (3:34); A2: SCENTLESS APPRENTICE (3:47); A3: HEART-SHAPED BOX (4:39); A4: RAPE ME (2:49); A5: FRANCES FARMER WILL HAVE HER REVENGE ON SEATTLE (4:07); A6: DUMB (2:29).
B1: VERY APE (1:55); B2: MILK IT (3:52); B3: PENNYROYAL TEA (3:36); B4: RADIO FRIENDLY UNIT SHIFTER (4:49); B5: TOURETTE'S (1:33); B6: ALL APOLOGIES (3:50).
CATEGORY: POP-ROCK | DURATION: 41 MINUTES
Despite engineer Steve Albini's original recordings being remixed by record label decree, Nirvana's final album In Utero takes noise-infused rock as far into the mainstream as possible. Just a few months after this triumph, frontman Kurt Cobain was found dead, thereby bringing to an end America's age of the rock star. Of course other figures would emerge to engage mass adulation, but they cannot be seen as anything more than children's entertainers in comparison. From its cover collage of a flayed angel inwards, In Utero is a gruesome epitaph for popular rock.
THIS BOOK IS DEDICATED TO THE MEMORY OF ROBERT YOUNG (1964-2014)
"ÆTERNUM VORTICE LACRIMARUM SOMNIAT"