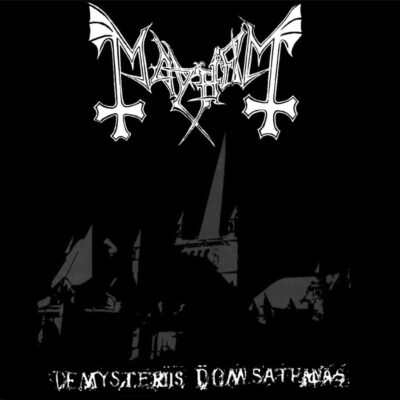 DE MYSTERIIS DOM SATHANAS
A1: FUNERAL FOG (5:47); A2: FREEZING MOON (6:23); A3: CURSED IN ETERNITY (5:10); A4: PAGAN FEARS (6:20).
B1: LIFE ETERNAL (6:57); B2: FROM THE DARK PAST (5:26); B3: BURIED BY TIME AND DUST (3:34); B4: DE MYSTERIIS DOM SATHANAS (6:21).
CATEGORY: BLACK METAL | DURATION: 46 MINUTES
Led by Euronymous, dark overlord of black metal's innermost circle, Mayhem created one of the cult's central masterworks with De Mysteriis Dom Sathanas, on which they were assisted by Burzum's Count Grishnackh and vocalist Attila Csihar of Hungarian band Tormentor, who sang lyrics composed by Dead, Mayhem's recently shotgun-suicided frontman. Some say that Euronymous and Grishnackh were plotting to dynamite Trondheim's ancient Nidaros Cathedral to coincide with the album's release. The music on De Mysteriis Dom Sathanas – which was not released until 1994 following the August 1993 knife-murder of Euronymous – is a non-stop contagion of sick entropic metal which viciously evokes Mayhem's charnel vision of eternal and accursed beauty carved from the chaos of existence.
THIS BOOK IS DEDICATED TO THE MEMORY OF ROBERT YOUNG (1964-2014)
"ÆTERNUM VORTICE LACRIMARUM SOMNIAT"