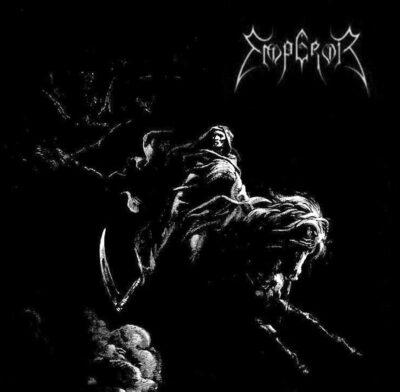 A1: I AM THE BLACK WIZARDS (6:25); A2: WRATH OF THE TYRANT
(4:16).
B1: NIGHT OF THE GRAVELESS SOULS (3:14); B2: COSMIC KEYS TO MY CREATIONS AND TIMES (6:23).
CATEGORY: BLACK METAL | DURATION: 21 MINUTES
Another foundational recording of Norwegian black metal, Emperor's first EP was recorded and released at a time when members of the band were actively involved in church burnings and, in one case, murder; yet Emperor's brand of black metal embraces a more cosmic perspective than that of their pagan peers, enhanced by use of synthesizers and a more structured approach, underpinning savage guitar assaults and harshly-screamed vocals with a muted symphonic architecture which would gain predominance in future releases. Nonetheless Emperor remains first and foremost a 21-minute riff-driven assault of pure black metal, and an essential component in that music's ascendency.
THIS BOOK IS DEDICATED TO THE MEMORY OF ROBERT YOUNG (1964-2014)
"ÆTERNUM VORTICE LACRIMARUM SOMNIAT"