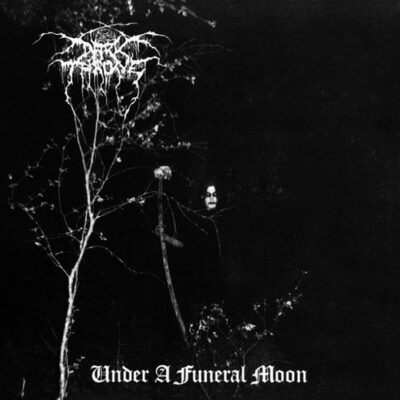 A1: NATASSJA IN ETERNAL SLEEP (3:33); A2: SUMMER OF THE DIABOLICAL HOLOCAUST (5:18); A3: THE DANCE OF ETERNAL
SHADOWS (3:43); A4: UNHOLY BLACK METAL (3:30).
B1: TO WALK THE INFERNAL FIELDS (7:50); B2: UNDER A FUNERAL MOON (5:06); B3: INN I DE DYPE SKOGERS FAVN (5:25); B4: CROSSING THE TRIANGLE OF FLAMES (6:12).
CATEGORY: BLACK METAL | DURATION: 41 MINUTES
Darkthrone further purified their black metal vision with Under A Funeral Moon, creating a music at once more minimal and more compelling in its nihilistic attack. Evoking the evil beauty of profane occult rituals enacted in a frozen graveyard at midnight, Darkthrone have become the corpse-painted black metal cult incarnate. Not released until 1993 (a year after its recording), Under A Funeral Moon would stand at the epicentre of Norway's blasphemous new underculture as its influence started to seep across the globe, abetted by others such as Mayhem, Burzum and Immortal.
THIS BOOK IS DEDICATED TO THE MEMORY OF ROBERT YOUNG (1964-2014)
"ÆTERNUM VORTICE LACRIMARUM SOMNIAT"