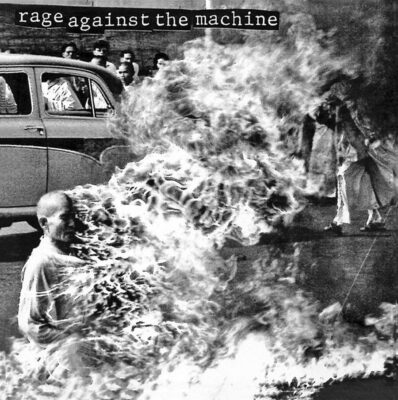 A1: BOMBTRACK (4:04); A2: KILLING IN THE NAME (5:13); A3: TAKE THE POWER BACK (5:36); A4: SETTLE FOR NOTHING (4:47); A5: BULLET IN THE HEAD (4:46).
B1: KNOW YOUR ENEMY (4:54); B2: WAKE UP (6:04); B3: FISTFUL OF STEEL (5:30); B4: TOWNSHIP REBELLION (5:24); B5: FREEDOM (6:06).
CATEGORY: RAP | DURATION: 53 MINUTES
A new, fun kind of rap driven by compressed, noisy metallic rock instead of hip-hop beats. Ripping circular riffs form the backdrop to a series of flame-throwing rants and diatribes inspired by and promulgating revolutionary politics in an explosion of anti-societal violence expressed as popular music. Rage Against The Machine inspired a host of imitators, most too dreadful to mention in this book, while hip-hop fans will no doubt be dismayed to hear that Rage Against The Machine was the most stimulating rap album since the heyday of Public Enemy and The Bomb Squad two years earlier.
THIS BOOK IS DEDICATED TO THE MEMORY OF ROBERT YOUNG (1964-2014)
"ÆTERNUM VORTICE LACRIMARUM SOMNIAT"