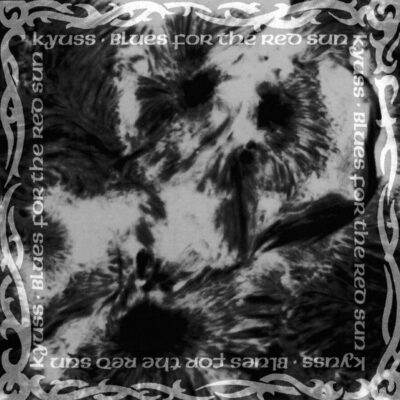 A1: THUMB (4:43); A2: GREEN MACHINE (3:38); A3: MOLTEN UNIVERSE (2:48); A4: 50 MILLION YEAR TRIP (DOWNSIDE UP) (5:46); A5: THONG SONG (3:46); A6: APOTHECARIES' WEIGHT (5:20).
B1: CATERPILLAR MARCH (1:55); B2: FREEDOM RUN (7:37); B3: 800 (1:33); B4: WRITHE (3:38); B5: CAPSIZED (0:55); B6: ALLEN'S WRENCH (2:42); B7: MONDO GENERATOR (6:15); B8: YEAH (0:03).
CATEGORY: HEAVY ROCK | DURATION: 51 MINUTES
Super-heavy, super-exciting rock sounds from the Californian desert, home to psychotropic cacti, lizard skulls and those who wear the skins of the dead in order to assay the stars. With its driving down-tuned distorted riffs and bone-bleaching solar propulsion, Blues For The Red Sun is a scorched rock mirage burnt into the beholder's brain at high noon. Those seeking earlier desert sounds might think of America's sub-Neil Young acoustic anthem "Horse With No Name", a song whose lyrics were ridiculed by singer Tom Waits despite transcending anything he could ever offer in terms of illuminating the central enigma of rock and roll – which is, of course, the enigma of life itself.
THIS BOOK IS DEDICATED TO THE MEMORY OF ROBERT YOUNG (1964-2014)
"ÆTERNUM VORTICE LACRIMARUM SOMNIAT"