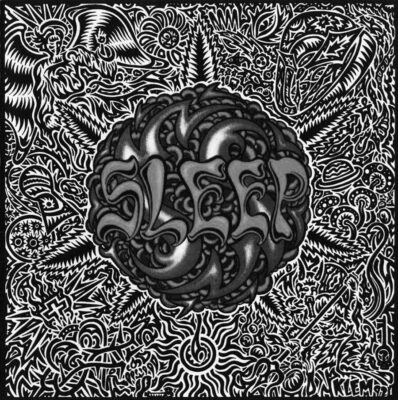 A1: DRAGONAUT (5:43); A2: THE DRUID (4:52); A3: EVIL GYPSY / SOLOMON'S THEME (7:06); A4: SOME GRASS (0:47); A5: AQUARIAN (5:37).
B1: HOLY MOUNTAIN (8:44); B2: INSIDE THE SUN (5:44); B3: FROM BEYOND (10:34); B4: NAIN'S BAPTISM (3:02).
CATEGORY: HEAVY ROCK | DURATION: 53 MINUTES
In an unexpected evolution of heavy rock, Californian trio Sleep took the neo-Sabbath template previously presented by bands like Pentagram and advanced it to a new level of complexity and sonic delirium. Around a set of the most brilliantly and unashamedly adolescent SF/fantasy lyrics since Hawkwind, Sleep construct vast walls of brain-blasting psychotropic sounds, a super-heavy trip to the heart of the molten sun. Sleep's Holy Mountain is often referred to as the foundational recording of "stoner rock" – presumably due to
the recurring word "stoner" in the lyrics – a quite limited musical sub-genre whose epic crowning work, Dopesmoker, was also created by Sleep a few years later.
THIS BOOK IS DEDICATED TO THE MEMORY OF ROBERT YOUNG (1964-2014)
"ÆTERNUM VORTICE LACRIMARUM SOMNIAT"