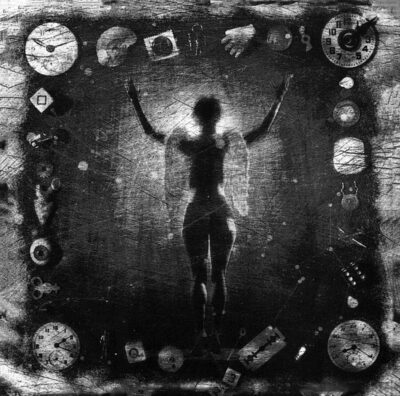 A1: N.W.O (5:29); A2: JUST ONE FIX (5:11); A3: TV II (3:04); A4: HERO (4:12); A5: JESUS BUILT MY HOTROD (4:51).
B1: SCARECROW (8:21); B2: PSALM 69 (5:29); B3: CORROSION (4:55); B4: GRACE (3:06).
CATEGORY: ELECTRO-METAL | DURATION: 45 MINUTES
Ministry's brand of rabid and monumental electro-metal mayhem reaches its savage peak on side A of Psalm 69, before spiralling out into no less virulent experimental noise on the B-side after its 8-minute super-heavy opener "Scarecrow". If singer Jourgensen's memoirs are to be believed, this was music conceived in the throes of a Dionysiac hard drug orgy which over the course of many months burned up hundreds of thousands of dollars of record company money; the sound of the album certainly backs that
up, with its maniacal ravings over remorseless, death-metal-influenced, heavily distorted guitar riffs, pounding electro-industrial beats, horror-movie samples, and an overall ambience of apocalyptic violence which is only momentarily diluted by the unnecessary inclusion of some short spoken interludes. This had to be the apex of Minstry's recordings, because to go beyond it would be impossible; Psalm 69 remains one of the defining albums of its time period.
THIS BOOK IS DEDICATED TO THE MEMORY OF ROBERT YOUNG (1964-2014)
"ÆTERNUM VORTICE LACRIMARUM SOMNIAT"