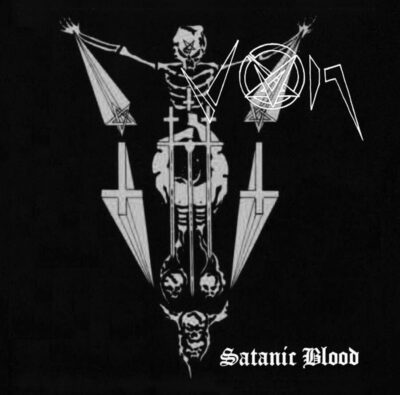 A1: DEVIL PIG (2:21); A2: VEINEN (2:23); A3: WATAIN (2:45); A4: LAMB (1:39).
B1: VEADTUCK (3:16); B2: SATANIC BLOOD (2:06); B3: CHRIST FIRE (2:54); B4: VON (2:26).
CATEGORY: METAL | DURATION: 21 MINUTES
Von's cassette-only demo Satanic Blood boils down to twenty-one minutes of extreme metal music, made in the USA, and consisting of droning, heavily distorted guitar riffs underpinned by throbbing machine-like percussion and overlaid with a growling, heavily-reverbed death vocal reciting the kind of profane and fractured litanies more normally found scrawled in blood on the walls of lunatic asylums. Cited as influential by certain members of Norway's emergent black metal cult, Satanic Blood's reticulated mesh is the sound of purulent plague-demons vomiting into the void.
THIS BOOK IS DEDICATED TO THE MEMORY OF ROBERT YOUNG (1964-2014)
"ÆTERNUM VORTICE LACRIMARUM SOMNIAT"