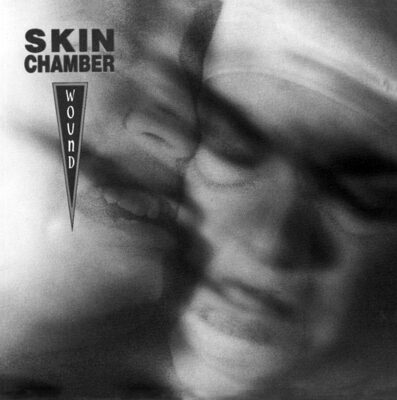 A1: CARVED IN SKIN (APT. 213) (3:19); A2: SLICE OF GOD (8:00); A3: SUCKED INSIDE (7:41); A4: MIND GRINDER (6:01).
B1: THE NAILS OF FAITH (7:58); B2: BURNING POWER (5:21); B3: SKIN ME (1:20); B4: IN THE SEWER OF DREAMS (7:33); B5: SWALLOWING SCRAP METAL (PT. 2) (3:11).
CATEGORY: NOISE-METAL | DURATION: 51 MINUTES
Skin Chamber was originally a grindcore-type project conceived and executed by members of experimental unit Controlled Bleeding. Skin Chamber's first album, Wound, saw their music evolve into a vicious breed of noise-metal, inspired by early Swans and transposing the bleak world-view of that band into a new environment of sonic pain and degradation. Wound's harshly-screamed and grotesquely-gargled vocals depict an underworld of human torture and corporeal destruction, a vision reinforced by its macerating
guitar riffs and feedback, electronic abrasion and merciless percussive assault, arranged in patterns designed to pulverise sanity. In the realm of outsider metal, Skin Chamber have erected a towering monolith of filth in their own image. This is the 51-minute vinyl version of Wound.
THIS BOOK IS DEDICATED TO THE MEMORY OF ROBERT YOUNG (1964-2014)
"ÆTERNUM VORTICE LACRIMARUM SOMNIAT"