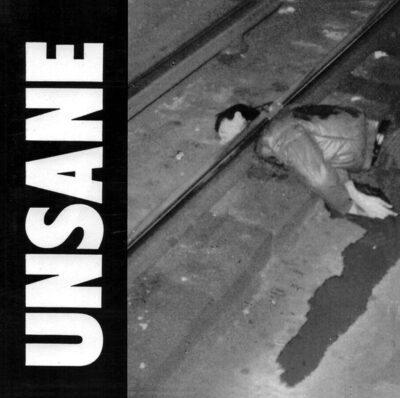 A1: ORGAN DONOR (2:10); A2: BATH (2:54); A3: MAGGOT (3:17); A4: CRACKED UP (2:57); A5: SLAG (2:43); A6: EXTERMINATOR (5:55).
B1: VANDAL-X (2:04); B2: HLL (2:31); B3: AZA-2000 (2:33); B4: CUT (2:48); B5: ACTION MAN (2:28); B6: WHITE HAND (4:26).
CATEGORY: HARDCORE ROCK | DURATION: 37 MINUTES
As uncompromising musically as the forensic train decapitation photo on its cover, Unsane is the first release from Unsane, a New York hardcore rock band of the first order. Like Helmet's Strap It On, Unsane was produced by Wharton Tiers, and provides an equally compelling jolt of groove-locked rock at the end of its tether and about to collapse under the weight of its own noise circuits and annihilatory voltage. Themes of urban degradation, addiction and death underscore the power of Unsane's music, making Unsane one of the most darkly disturbing debuts of the decade.
THIS BOOK IS DEDICATED TO THE MEMORY OF ROBERT YOUNG (1964-2014)
"ÆTERNUM VORTICE LACRIMARUM SOMNIAT"