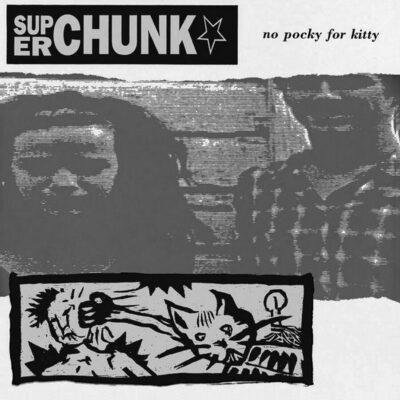 A1: SKIP STEPS 1 & 3 (3:07); A2: SEED TOSS (3:00); A3: CAST IRON (3:48); A4: TOWER (2:48); A5: PUNCH ME HARDER (2:13); A6: SPRUNG A LEAK (2:58).
B1: 30 XTRA (2:31); B2: TIE A ROPE TO THE BACK OF THE BUS (2:54); B3: PRESS (2:08); B4: SIDEWALK (3:03); B5: CREEK (1:41); B6: THROWING THINGS (3:26).
CATEGORY: PUNK-POP | DURATION: 33 MINUTES
Assisted by engineer Steve Albini, Superchunk proved that the punk-pop paradigm previewed in 1983 by Hüsker Dü could still be viable eight years later. The band's relentless high-energy thrust allows for no weakness in No Pocky For Kitty's frontal assault, with a slam-wall of electrified commotion sustained by Albini throughout. Punk-pop was subsequently presented in a diluted and neutered form – at times with great commercial success – by a number of bands too mediocre to be mentioned in this book, but No Pocky For Kitty remains the feasible conclusion of its high-grade creative sound cycle.
THIS BOOK IS DEDICATED TO THE MEMORY OF ROBERT YOUNG (1964-2014)
"ÆTERNUM VORTICE LACRIMARUM SOMNIAT"