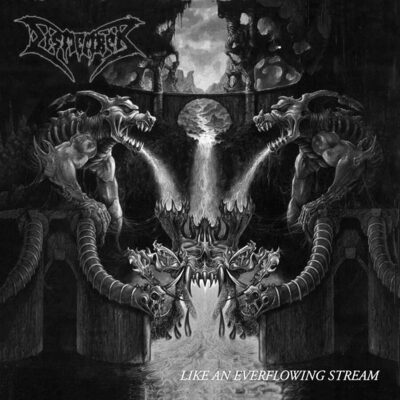 LIKE AN EVERFLOWING STREAM
A1: OVERRIDE OF THE OVERTURE (5:15); A2: SOON TO BE DEAD (1:54); A3: BLEED FOR ME (3:21); A4: AND SO IS LIFE (3:10); A5: DISMEMBERED (5:53).
B1: SKIN HER ALIVE (2:14); B2: SICKENING ART (3:55); B3: IN DEATH'S SLEEP (5:21); B4: DEATHEVOCATION (4:47); B5: DEFECTIVE DECAY (4:03).
CATEGORY: METAL | DURATION: 40 MINUTES
As deathly Swedish metal powered inexorably towards its peak, Dismember arose from the ruins of Carnage to deliver Like An Everflowing Stream, one of the most thunderous outbursts of destructive mayhem in all metal. Recorded at Sunlight, the album utilises that studio's trademark guitar tone to savage effect, creating a looping, churning juggernaut that destroys all in its path. Demonic from its cover art inwards, Like An Everflowing Stream sucks the very last bones from rock's corpse and spits them forth as liquid fire on a death-drenched apocalyptic glory ride through the halls of metal Valhalla.
THIS BOOK IS DEDICATED TO THE MEMORY OF ROBERT YOUNG (1964-2014)
"ÆTERNUM VORTICE LACRIMARUM SOMNIAT"