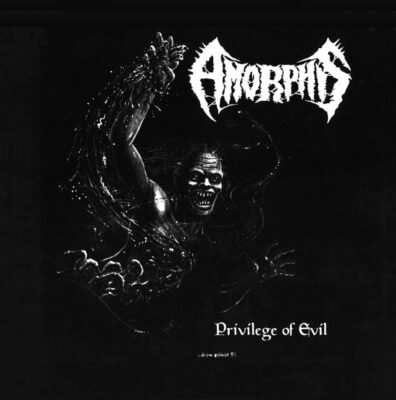 A1: PILGRIMAGE FROM DARKNESS (4:30); A2: BLACK EMBRACE (3:23); A3: PRIVILEGE OF EVIL (3:49).
B1: MISERY PATH (4:15); B2: VULGAR NECROLATRY (3:57); B3: EXCURSING FROM EXISTENCE (3:06).
CATEGORY: METAL | DURATION: 23 MINUTES
Extreme Norse metal. Privilege Of Evil (released in 1993) presents the inaugural recordings of Amorphis, a band from Finland who later assayed a more complex, death metal-derived music; here, Privilege Of Evil joins albums by Samael and Merciless as dark precursors of the ice-storm soon to come from the occult metal elite of Norway.
THIS BOOK IS DEDICATED TO THE MEMORY OF ROBERT YOUNG (1964-2014)
"ÆTERNUM VORTICE LACRIMARUM SOMNIAT"