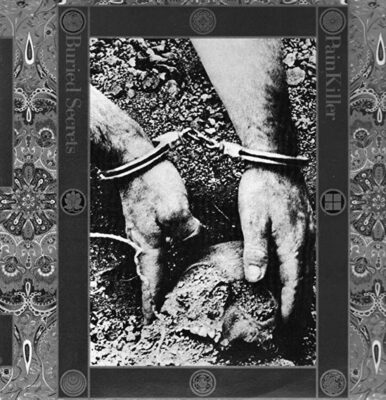 A1: TORTURED SOULS (1:52); A2: ONE EYED PESSARY (1:50); A3:
TRAILMARKER (0:03); A4: BLACKHOLE DUB (3:29); A5: BURIED SECRETS (6:13).
B1: THE LADDER (0:22); B2: EXECUTIONER (2:48); B3: BLACK CHAMBER (2:28); B4: SKINNED (0:54); B5: THE TOLL (6:25).
CATEGORY: AVANT-METAL | DURATION: 26 MINUTES
Painkiller's second essential studio set of 1991, for which they were joined on two tracks by guitarist Justin Broadrick. With less grindcore action and more industrial-style experimentation – including some innovative dub-metal  – Buried Secrets stands among the elite releases of the snuff-jazz/noise-rock underground, lethal in its brevity and astonishing penetrative power. These types of experiments would continue, conducted by Broadrick, drummer Mick Harris and others, for several years, but without ever truly surpassing Painkiller's original blueprint.
THIS BOOK IS DEDICATED TO THE MEMORY OF ROBERT YOUNG (1964-2014)
"ÆTERNUM VORTICE LACRIMARUM SOMNIAT"