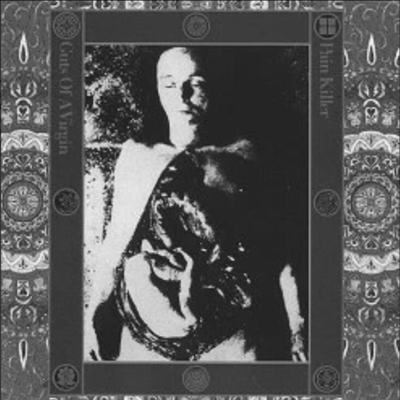 A1: SCUD ATTACK (3:07); A2: DEADLY OBSTACLE COLLAGE (0:21); A3: DAMAGE TO THE MASK (2:43); A4: GUTS OF A VIRGIN (1:19); A5: HANDJOB (0:10); A6: PORTENT (4:00).
B1: HOSTAGE (2:24); B2: LATHE OF GOD (0:56); B3: DR. PHIBES (3:00); B4: PURGATORY OF FIERY VULVAS (0:26); B5: WARHEAD (1:12); B6: DEVIL'S EYE (4:37).
CATEGORY: AVANT-METAL | DURATION: 24 MINUTES
After warming up with his experimental, grindcore-influenced but at times overly comical unit Naked City, avant-garde sax-player John Zorn got serious with Painkiller, a new band uniting him with bass player Bill Laswell and Napalm Death drummer Mick Harris. Guts Of A Virgin, one of two albums recorded and released by Painkiller in 1991, retains Zorn's earlier free noise/grindcore fusion but allows for greater intensity by including several lengthier compositions, the music attaining a zenith of beautiful horror perfectly matched by the album's "controversial" cover art, which was ludicrously seized and destroyed by UK Customs and Excise.
THIS BOOK IS DEDICATED TO THE MEMORY OF ROBERT YOUNG (1964-2014)
"ÆTERNUM VORTICE LACRIMARUM SOMNIAT"