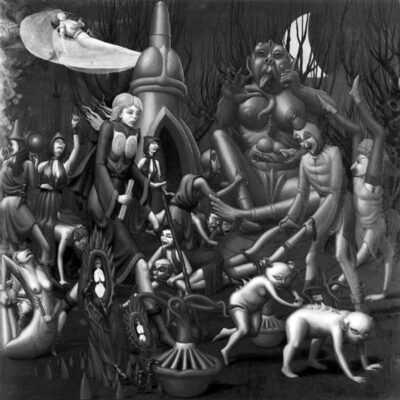 A1: PICTURE OF BEAUTY & INNOCENCE (INTRO) / COMISERATING THE CELEBRATION (11:15); A2: EBONY TEARS (7:47); A3: SERPENT EVE (7:40).
B1: SOUL SACRIFICE (2:55); B2: A FUNERAL REQUEST (9:16); B3:
EQUILIBRIUM (6:09); B4: REACHING HAPPINESS, TOUCHING PAIN (9:08).
CATEGORY: PSYCH-METAL | DURATION: 55 MINUTES
Mostly reduced to a slow, massive, remorseless distorted grind but also capable of breathless acceleration, Forest Of Equilibrium was the ultra-metallic heavy rock debut of Cathedral, an English band fronted by former Napalm Death vocalist Lee Dorrian. Through seven lengthy tracks Cathedral present their blueprint for a second wave of post-Sabbath sound excavations, even heavier and more extreme than the first, and ultimately psychedelic in its brain-bending convolutions. The album's Bosch-inspired artwork and the lyrical concerns of the songs seem to point towards the metaphysical, perhaps an attempt to weave a thread of medieval awe through one of the most monolithic yet intricate sonic fabrics yet committed to record. Cathedral's subliminal call for a new, critical-mass psych-metal was only convincingly answered in 1996 when fellow English maniacs Electric Wizard recorded and discharged Come My Fanatics into the mocking void.
THIS BOOK IS DEDICATED TO THE MEMORY OF ROBERT YOUNG (1964-2014)
"ÆTERNUM VORTICE LACRIMARUM SOMNIAT"