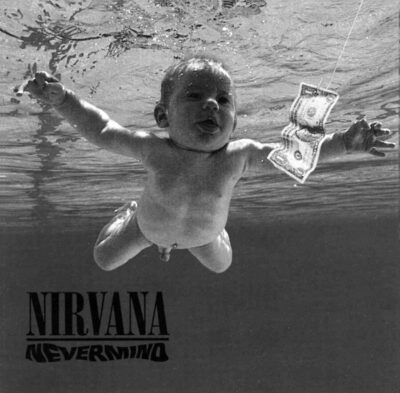 A1: SMELLS LIKE TEEN SPIRIT (5:00); A2: IN BLOOM (4:13); A3: COME AS YOU ARE (3:38); A4: BREED (3:03); A5: LITHIUM (4:16); A6: POLLY (2:56).
B1: TERRITORIAL PISSINGS (2:22); B2: DRAIN YOU (3:43); B3: LOUNGE ACT (2:35); B4: STAY AWAY (3:30); B5: ON A PLAIN (3:12); B6: SOMETHING IN THE WAY (3:43).
CATEGORY: POP-ROCK | DURATION: 43 MINUTES
Introducing a Breeders-style avant-pop sensibility to their basic "grunge" sound enabled Nirvana to create Nevermind, a multi-million-selling breakthrough album. Also notable for its satiric cover art showing a new-born baby being torture-trained in the money-grasping American way, Nevermind used pop tunes and a softer production (by Butch Vig) to balance its native guitar fury; it became a massive success mainly due to the newly-minted MTV, which played the single "Smells Like Teen Spirit" over and over again to the point of overkill, enabling frontman Kurt Cobain to (reluctantly) assume the doomed role of America's terminal rock star.
THIS BOOK IS DEDICATED TO THE MEMORY OF ROBERT YOUNG (1964-2014)
"ÆTERNUM VORTICE LACRIMARUM SOMNIAT"