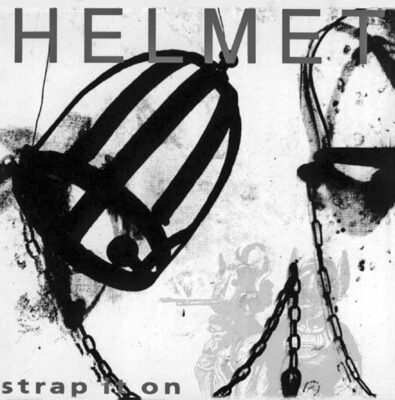 A1: REPETITION (3:01); A2: RUDE (4:13); A3: BAD MOON (2:16); A4: SINATRA (4:31).
B1: FBLA (2:41); B2: BLACKTOP (3:21); B3: DISTRACTED (3:13); B4: MAKE ROOM (3:29); B5: MURDER (4:03).
CATEGORY: HARDCORE ROCK | DURATION: 31 MINUTES
From the Amphetamine Reptile label, Strap It On is the first album release by Helmet, a New York hardcore rock band. One of the few rock outfits to approach the raw power of extreme metal music from that period, Helmet present Strap It On as a post-melodic assault of repetitive meat-grinding riffs and grooves, a vital addition to the gasping twitch of rock's death-nerve in its terminal decade.
THIS BOOK IS DEDICATED TO THE MEMORY OF ROBERT YOUNG (1964-2014)
"ÆTERNUM VORTICE LACRIMARUM SOMNIAT"