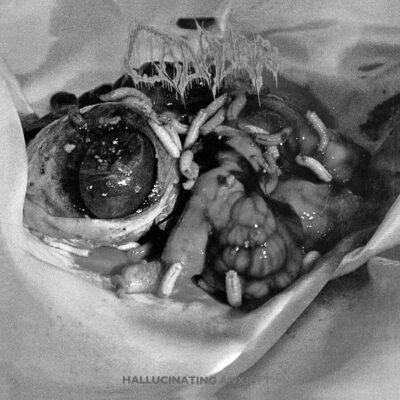 A1: INTRO (0:34); A2: IGNOMINIOUS ECZEMA (4:36); A3: CORROSIVE DELIRIUM (2:55); A4: EROSIVE FESTER (2:40); A5: HALLUCINATING ANXIETY (3:41); A6: CANNIBALISTIC DISSECTION (2:45); A7: HYPERTROPHYAN (3:24).
B1: PETRIFYED FACES (2:36); B2: INNOMINATE (3:27); B3: TWISTED COLLAPSE (2:15); B4: ABNORMAL DEFORMITY (3:15); B5: MAELSTROM (3:27); B6: MENTAL ABHERRANCE (2:33); B7: BODILY TRAUMA (4:20).
CATEGORY: METAL | DURATION: 42 MINUTES
Evidently impressed by Carcass's thematic lexicon, Cadaver produced the first essential album of European "death metal" from Norway with Hallucinating Anxiety, a guitar-heavy onslaught of gut-grinding charnel visions. Take Hallucinating Anxiety if you wish to hear electrified music on an unstoppable, reckless rampage through the screaming void of violence.
THIS BOOK IS DEDICATED TO THE MEMORY OF ROBERT YOUNG (1964-2014)
"ÆTERNUM VORTICE LACRIMARUM SOMNIAT"