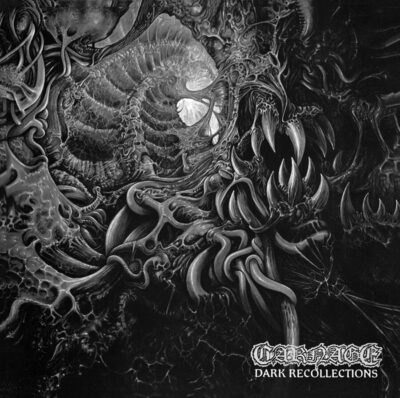 A1: DARK RECOLLECTIONS (3:43); A2: TORN APART (4:39); A3:
BLASPHEMIES OF THE FLESH (3:45); A4: INFESTATION OF EVIL (4:58); A5: GENTLE EXHUMING (2:54).
B1: DERANGED FROM BLOOD (5:07); B2: MALIGNANT EPITAPH (3:17); B3: SELF DISSECTION (3:29); B4: DEATH EVOCATION (4:33); B5: OUTRO (1:36).
CATEGORY: METAL | DURATION: 39 MINUTES
Among the most glittering yet enigmatic jewels in the Swedish metal crown, Carnage's Dark Recollections – their only album, recorded at Sunlight Studios – presents a deathly labyrinth of implosive sound drenched in cold visceral mystery. From its Lovecraftian cover art inward, Dark Recollections reminds us that extreme metal at its peak was a potent purveyor of worlds within worlds, a dark instrument of the war against reality.
THIS BOOK IS DEDICATED TO THE MEMORY OF ROBERT YOUNG (1964-2014)
"ÆTERNUM VORTICE LACRIMARUM SOMNIAT"