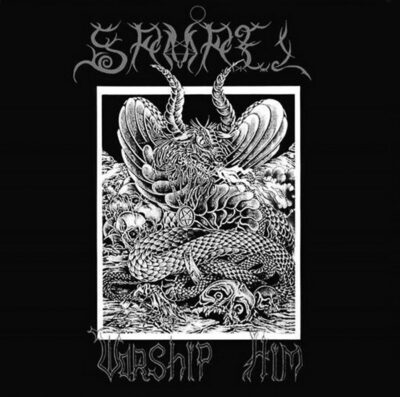 A1: SLEEP OF DEATH (3:44); A2: WORSHIP HIM (6:29); A3:
KNOWLEDGE OF THE ANCIENT KINGDOM (5:05); A4: MORBID METAL (4:54); A5: RITE OF CTHULHU (2:03).
B1: THE BLACK FACE (3:30); B2: INTO THE PENTAGRAM (6:46); B3: MESSENGERS OF THE LIGHT (2:42); B4: LAST BENEDICTION (1:23); B5: THE DARK (4:27).
CATEGORY: METAL | DURATION: 43 MINUTES
At a time when Swedish metal sought to emulate the American death model, other European strains remained true to the roots of Hellhammer's originary legacy. Samael, also from Switzerland, delivered a crucial work in this lineage with Worship Him, one of several 1990 offerings which set the stage for black metal's final eruption. Satanic in its thematic embrace of ancient evil, Worship Him also anticipates a coming pall of black doom in its slower passages, while recursive mega-riff onslaughts evoke blasphemous spectres of the atavistic night.
THIS BOOK IS DEDICATED TO THE MEMORY OF ROBERT YOUNG (1964-2014)
"ÆTERNUM VORTICE LACRIMARUM SOMNIAT"