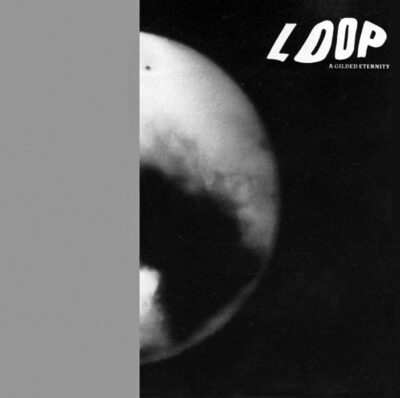 A1: VAPOUR (6:03); A2: AFTERGLOW (5:09).
B1: THE NAIL WILL BURN (4:49); B2: BLOOD (5:23).
C1: BREATHE INTO ME (4:34); C2: FROM CENTRE TO WAVE (5:57).
D1: BE HERE NOW (9:23).
CATEGORY: PSYCH-ROCK | DURATION: 43 MINUTES
Unlike the numerous bands who arrive in a flash of genius and then slowly and painfully fade away into mediocrity before disintegrating, Loop grew greater with every release before abruptly terminating their 4-year trip. Released as a 45rpm double album for maximal volume, Loop's final opus A Gilded Eternity carries the band's vision of concentric electric ecstasy to its monumental conclusion in the 9-minute "Be Here Now", a mesmeric invocation of the beautiful void.
THIS BOOK IS DEDICATED TO THE MEMORY OF ROBERT YOUNG (1964-2014)
"ÆTERNUM VORTICE LACRIMARUM SOMNIAT"