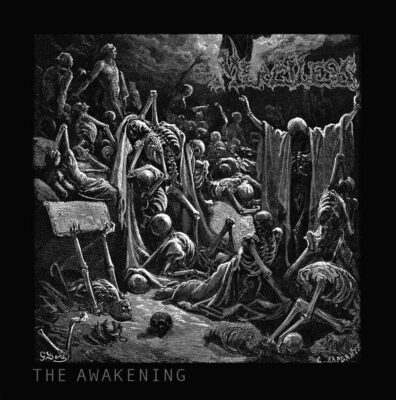 A1: PURE HATE (3:27); A2: SOULS OF THE DEAD (2:58); A3: THE
AWAKENING (3:09); A4: DREADFUL FATE (2:45).
B1: REALM OF THE DARK (3:51); B2: DYING WORLD (4:16); B3: BESTIAL DEATH (2:24); B4: DENIED BIRTH (4:00).
CATEGORY: METAL | DURATION: 28 MINUTES
The first release (in 1990) from Deathlike Silence Productions, the Norwegian record label founded by Euronymous, a black metal prophet from the band Mayhem who in 1993 was violently murdered by another musician. With The Awakening, Merciless – actually a Swedish band – fuse raging elements of speed, death and the occult to forge a concise, 28-minute masterwork of evil metal and black entropy, a key recording from the Scandinavian underground made at a time when extreme Swedish metal was in the final stage of its metamophosis into a direct counterpart to the American death scene.
THIS BOOK IS DEDICATED TO THE MEMORY OF ROBERT YOUNG (1964-2014)
"ÆTERNUM VORTICE LACRIMARUM SOMNIAT"