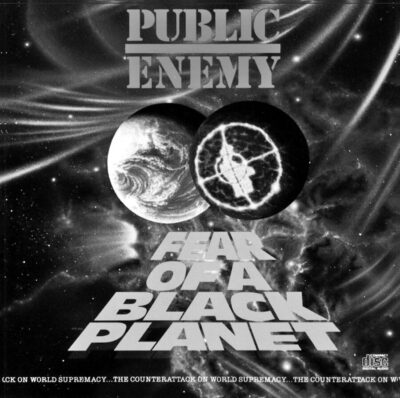 A1: CONTRACT ON THE WORLD LOVE JAM (INSTRUMENTAL) (1:44); A2: BROTHERS GONNA WORK IT OUT (5:05); A3: 911 IS A JOKE (3:17); A4: INCIDENT AT 66.6 FM (INSTRUMENTAL) (1:37); A5: WELCOME TO THE TERRORDOME (5:24); A6: MEET THE G THAT KILLED ME (0:44); A7: POLLYWANACRAKA (3:52); A8: ANTI-NIGGER MACHINE (3:17); A9: BURN HOLLYWOOD BURN (2:46); A10: POWER TO THE PEOPLE (4:49).
B1: WHO STOLE THE SOUL? (3:52); B2: FEAR OF A BLACK PLANET
(3:40); B3: REVOLUTIONARY GENERATION (5:43); B4: CAN'T DO
NUTTIN' FOR YA MAN (2:45); B5: REGGIE JAX (1:35); B6: LEAVE THIS OFF YOUR FUCKIN' CHARTS (INSTRUMENTAL) (2:32); B7: B SIDE WINS AGAIN (3:39); B8: WAR AT 33 1/3 (2:13); B9: FINAL COUNT OF THE COLLISION BETWEEN US AND THE DAMNED (INSTRUMENTAL) (0:48); B10: FIGHT THE POWER (4:42).
CATEGORY: RAP | DURATION: 64 MINUTES
Public Enemy's third album and career masterwork marked an early and terminal peak for hip-hop, presenting an incendiary black power manifesto conveyed by revolutionary music collages from The Bomb Squad. But Fear Of A Black Planet was to prove the Squad's last classic offering; a legal case filed against hippie rappers De La Soul in 1989 for "plagiarism" meant that the age of compressing hundreds of samples together in one album for free were over, resulting in a simplification of hip-hop backing tracks. Some rappers attempted to compensate by doubling down on verbal violence and shock, but hip-hop/rap music never again reached the heights set by Fear Of A Black Planet.
THIS BOOK IS DEDICATED TO THE MEMORY OF ROBERT YOUNG (1964-2014)
"ÆTERNUM VORTICE LACRIMARUM SOMNIAT"