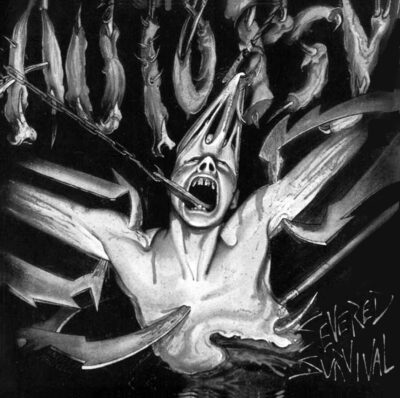 A1: CHARRED REMAINS (3:40); A2: SERVICE FOR A VACANT COFFIN (2:50); A3: DISEMBOWEL (4:04); A4: GASPING FOR AIR (3:19); A5: RIDDEN WITH DISEASE (4:52).
B1: PAGAN SAVIOUR (4:10); B2: IMPENDING DREAD (4:46); B3:
SEVERED SURVIVAL (3:28); B4: CRITICAL MADNESS (4:32); B5: EMBALMED (3:02).
CATEGORY: DEATH METAL | DURATION: 39 MINUTES
Death metal continued its rise with Autopsy's Severed Survival, an album which encapsulates the essence of this bestial underground uprising: a grown-up-baiting preoccupation with images and words of extreme gore, dismemberment and insanity, backed by ultra-heavy amplified and distorted electric guitar riffs and demented solos, delivered in a vocal style of ludicrous corpse-like growls. Severed Survival confirms American death metal as grotesque outsider music smashing most rock bands into mewling splinters by comparison.
THIS BOOK IS DEDICATED TO THE MEMORY OF ROBERT YOUNG (1964-2014)
"ÆTERNUM VORTICE LACRIMARUM SOMNIAT"