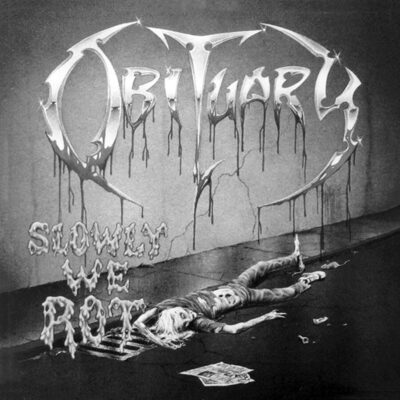 A1: INTERNAL BLEEDING (3:01); A2: GODLY BEINGS (1:55); A3: 'TIL DEATH (3:55); A4: SLOWLY WE ROT (3:36); A5: IMMORTAL VISIONS (2:25); A6: GATES TO HELL (2:47).
B1: WORDS OF EVIL (1:55); B2: SUFFOCATION (2:35); B3: INTOXICATED (4:40); B4: DEADLY INTENTIONS (2:09); B5: BLOODSOAKED (3:10); B6: STINKUPUSS (3:01).
CATEGORY: DEATH METAL | DURATION: 36 MINUTES
Recorded at Morrisound as 1988 became 1989, Obituary's Slowly We Rot is a landmark death metal album, much of it purveyed at punishingly slow speed, all delivered in a vocal style that borders on graveyard absurdism before assuming textural coherence. Unrelentingly heavy and menacing, Slowly We Rot delivers nothing but death and decay from its cover art inwards.
THIS BOOK IS DEDICATED TO THE MEMORY OF ROBERT YOUNG (1964-2014)
"ÆTERNUM VORTICE LACRIMARUM SOMNIAT"