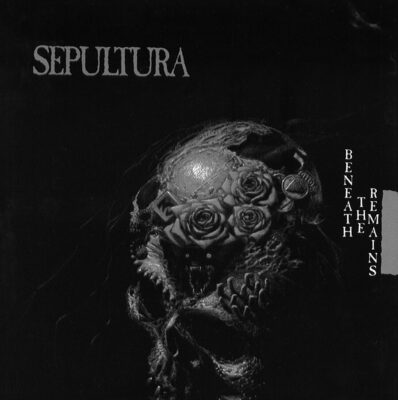 A1: BENEATH THE REMAINS (5:11); A2: INNER SELF (5:07); A3:
STRONGER THAN HATE (5:50); A4: MASS HYPNOSIS (4:22).
B1: SARCASTIC EXISTENCE (4:43); B2: SLAVES OF PAIN (4:00); B3:
LOBOTOMY (4:55); B4: HUNGRY (4:29); B5: PRIMITIVE FUTURE (3:08).
CATEGORY: METAL | DURATION: 43 MINUTES
Two years on, the youthful Satanic exuberance of Sepultura's Morbid Visions was replaced by a cold, crushing death machine. Beneath The Remains presents Sepultura's music at the apex of clinical violence, before they began to explore other forms, and correlates directly to the primary American death metal music which was being produced that same year while recalling key elements of earlier Slayer. Beneath The Remains fuses abstract fragments of destruction into anthems of compelling force, creating its own world of ritual and ruination.
THIS BOOK IS DEDICATED TO THE MEMORY OF ROBERT YOUNG (1964-2014)
"ÆTERNUM VORTICE LACRIMARUM SOMNIAT"