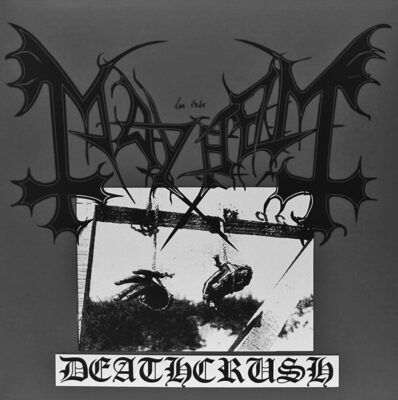 A1: SILVESTER ANFANG (1:56); A2: DEATHCRUSH (3:32); A3: CHAINSAW GUTSFUCK (3:32).
B1: WITCHING HOUR (1:49); B2: NECROLUST (3:37); B3: (WEIRD)
MANHEIM/PURE FUCKING ARMAGEDDON (2:59).
CATEGORY: METAL | DURATION: 18 MINUTES
The first venomous blast from Norway's underground extreme metal scene, a forebear of the black metal music to come. After a lulling intro provided by Conrad Schitzler, founder member of German electronic pioneers Kluster, Deathcrush explodes with five tracks of mangled metal madness. It was metal bands such as Sodom and Bathory which led Mayhem to this point of sonic eruption, but Deathcrush ultimately transcends categorization; Deathcrush is simply an infernal conflagration of apocalyptic rock and roll exuberance, an electric orgasm from the heart of teenage darkness. While grown-ups fawned over safe hair-metal horrors like GunsNRoses, Mayhem were already hell-bent on forging the sound of – in their words – pure fucking Armageddon.
THIS BOOK IS DEDICATED TO THE MEMORY OF ROBERT YOUNG (1964-2014)
"ÆTERNUM VORTICE LACRIMARUM SOMNIAT"