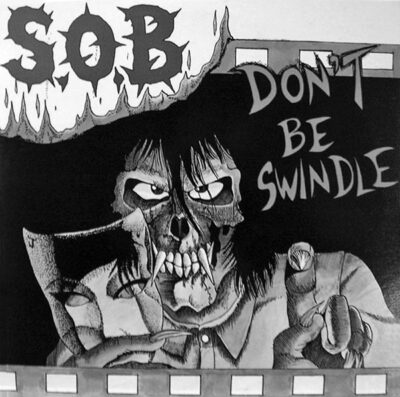 A1: RAGING IN HELL (1:35); A2: VIOLENT ANGER (1:03); A3: HEAR NOTHING FOR YOU (0:52); A4: INFLUENCE OF SLIME (0:53); A5: HYSTERIC TO TEMPTATION (1:30); A6: INSANE (1:04); A7: S.O.B. (0:06); A8: I'M A DREAMER (1:17); A9: LET'S GO BEACH (1:48).
B1: DON'T BE SWINDLE (1:09); B2: LOOK LIKE DEVIL (1:36); B3: FUCK OR DIE (1:00); B4: HEADS OR TAILS (1:05); B5: DON'T YOUR BACK (1:15); B6: SPEED MY WAY (0:58); B7: SPEAK MOUTH FUCK YOU (0:06); B8: REVIVAL (0:53); B9: TO BE CONTINUED (1:32).
CATEGORY: HARDCORE PUNK | DURATION: 20 MINUTES
From Japan, S.O.B. (Sabotage Organized Barbarian) were a punk band who in 1987 were operating in a similar style to Napalm Death in 1986, creating terminal hardcore on the cusp of morphing into grindcore (the two bands would later share an album), although S.O.B.'s music was less political and more groove-oriented. Don't Be Swindle presents eighteen tracks in just under twenty minutes, with two tracks rivalling
Napalm Death for brevity at six seconds each. With occasional metal-style guitar solos over distorted bass-led grooves, accelerated blasting sections and shouted refrains, this short album attains high intensity, maximum rock and roll exuberance throughout its duration before a raucous, lunatic fade-out brings the golden age of Japanese hardcore to its close.
THIS BOOK IS DEDICATED TO THE MEMORY OF ROBERT YOUNG (1964-2014)
"ÆTERNUM VORTICE LACRIMARUM SOMNIAT"