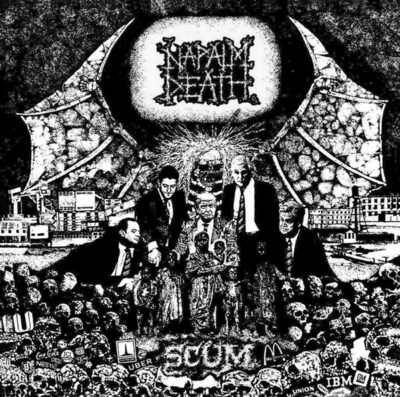 A1: LIFE? (0:41); A2: PRISON WITHOUT WALLS (0:36); A3: POINT OF NO RETURN (0:33); A4: NEGATIVE APPROACH (0:31); A5: SUCCESS? (1:07); A6: DECEIVER (0:28); A7: C.S. (CONSERVATIVE SHITHEAD) (1:13); A8: PARASITES (0:22).
B1: PSEUDO YOUTH (0:40); B2: DIVINE DEATH (1:21); B3: AS THE
MACHINE ROLLS ON (0:41); B4: COMMON ENEMY (0:15); B5: MORAL CRUSADE (1:30); B6: STIGMATIZED (1:00); B7: M.A.D. (1:33); B8: DRAGNET (1:00).
CATEGORY: GRINDCORE | DURATION: 14 MINUTES
Resurrected around drummer Mick Harris with a brand new formation – including vocalist Lee Dorrian and guitarist Bill Steer, also in fellow hardcore experimenters Carcass – Napalm Death unleashed a new vision of Scum, sixteen tracks conveyed in fourteen minutes of primal grinding and blasting as the shards and ligatures of grindcore are excavated from the burnt, twisted bones of what went before.
THIS BOOK IS DEDICATED TO THE MEMORY OF ROBERT YOUNG (1964-2014)
"ÆTERNUM VORTICE LACRIMARUM SOMNIAT"