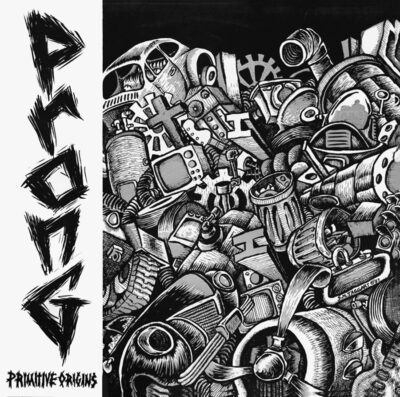 A1: DISBELIEF (1:42); A2: WATCHING (1:52); A3: CLING TO LIFE (1:39); A4: DENIAL (1:43); A5: DREAMS LIKE THAT (2:19).
B1: IN MY VEINS (2:10); B2: CLIMATE CONTROL (3:13); B3:
PERSECUTION (4:46).
CATEGORY: METAL HARDCORE | DURATION: 20 MINUTES
The end-point for the first phase of American hardcore/metal fusion, following trends suggested by bands such as Die Kreuzen and Canada's Voivod. Prong's debut recording, Primitive Origins combines aggression and inspiration in equal measure to paint a picture of society falling apart at its seams, just as the band's music burns on the edge of detonation. Prong veered overly towards metal in later life, but the lessons of their debut would reverberate through the new hardcore of the 90s.
THIS BOOK IS DEDICATED TO THE MEMORY OF ROBERT YOUNG (1964-2014)
"ÆTERNUM VORTICE LACRIMARUM SOMNIAT"