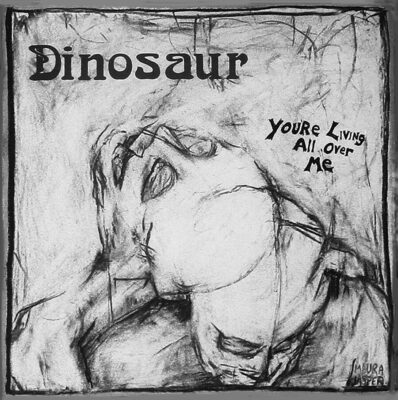 YOU'RE LIVING ALL OVER ME
A1: LITTLE FURY THINGS (3:05); A2: KRACKED (2:51); A3: SLUDGEFEAST (5:15); A4: THE LUNG (3:51).
B1: RAISANS (3:48); B2: TARPIT (4:33); B3: IN A JAR (3:26); B4: LOSE (3:08); B5: POLEDO (5:40).
CATEGORY: NOISE-ROCK | DURATION: 36 MINUTES
Mutant freak-pop driven by a manic guitar maelstrom, Dinosaur's You're Living All Over Me sees them join Sonic Youth at the cutting-edge of American underground music. The album even closes with a 5-minute experimental track mixing folk-blues with ambient noise, confirming Dinosaur's vision of a new age expanding the frontiers of avant-rock.
THIS BOOK IS DEDICATED TO THE MEMORY OF ROBERT YOUNG (1964-2014)
"ÆTERNUM VORTICE LACRIMARUM SOMNIAT"